News
March 2014 - In May 2014 Rebelact will organise a serie of info nights about the present situation in Egypt. Maro, a female Egyptian activist and rebel clown, will give lectures on the recent developments in Egypt: how could the transition process to a more democratic society go on? What is the role to public debate for cultural organisations in Egypt? She will give special attention to the role of women in this transition process. And of course she will also show what independent cultural organisations, creative activist and clown groups are doing right now in Egypt.

Exact dates, places and locations will be published later on this website, IndyMedia.nl and Aktie Agenda.
November 2013 - On November 15th Rebelact joined the seminar 'Arab Theater Today' from the Dancing on the Edge Festival in the Comedy Theater, Nes 110 in Amsterdam. The seminar gave attention to several groups working 'Outside the Bubble and in the Streets'. Hans, one of the Amsterdam rebel clowns, gave (with support on stage from clown Mel) a presentation about the first 'Rebel Clown Army ' mission in Cairo and Mansoura in Egypt and his participation in the 'Training in the Streets' program by the ElMadina Center in Alexandria. One of the items he mentioned, was "How to Arabise your concept and performance" to get really connected with public on the streets of Egypt.
July 2013 - In May 2013 Rebelact organised an info night about the ongoing Egyptian revolution. There we also showed pictures and a video about graffiti near Tahrir Square. The paintings are impressive; the wall in the Muhammed Mahmoud Street became a symbol of remembrance of the revolution.
December 2012 - Last October we introduced the Rebel Clown Army in Egypt. A week in Cairo and Mansoura filled with performances, a Basic Rebel Clown Training and presentation.
In November we returned to Egypt for an 8-day workshop in Alexandria. We're proud about the very first performance from Egyptian Rebel Clowns: "A Big Salute to the people of Kom ElDeka!" Kom ElDeka is a special neighbourhood in Alexandria; an unique community which deserves support. Next to it we gave a presentation and additional workshop in Cairo. We love to be back in Egypt in 2013!
October 2012 - Sometimes creative activism can be very risky. For singing a punk rock song in a Moscow church ("St. Maria, Virgin, Drive away Putin!") Nadezhda Tolokonnikova and Maria Alyokhina from the band Pussy Riot have been sent to Soviet-era prison camps east of Moscow. Support Pussy Riot! Take action!
September 2012 - In the next months there will be a Bouffon workshop in Amsterdam. We're also thinking about a public intervention everyone could join. Drop us a line if you wish to join!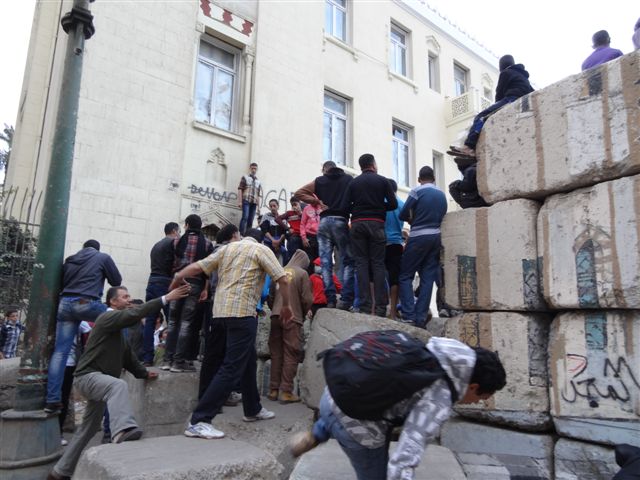 Saturday, November 24th 2012 in Cairo, Egypt: courageous people taking one of the police barricades in the area near Tahrir Square. Photograher: Salavila