Copyright

The texts are licensed under Creative Commons Attribution-NonCommercial-ShareAlike 3.0 Unported License, unless otherwise stated.


Unless otherwise stated all photographs and films are copyright of the photographers and filmers, and may not be reproduced without permission.

Contact photographers and filmers if you wish to reproduce their work.
Contact Rebelact if you've any questions about how to connect with them or about reproducing material from the website.

Creative Commons Attribution-NonCommercial-ShareAlike 3.0 Unported (CC BY-NC-SA 3.0)
Legal Code (the full license)
You are free:
to Share - to copy, distribute and transmit the work

to Remix - to adapt the work

Under the following conditions:

Attribution - You must attribute the work in the manner specified by the author or licenser (but not in any way that suggests that they endorse you or your use of the work).


Noncommercial - You may not use this work for commercial purposes.


Share Alike - If you alter, transform, or build upon this work, you may distribute the resulting work only under the same or similar license to this one.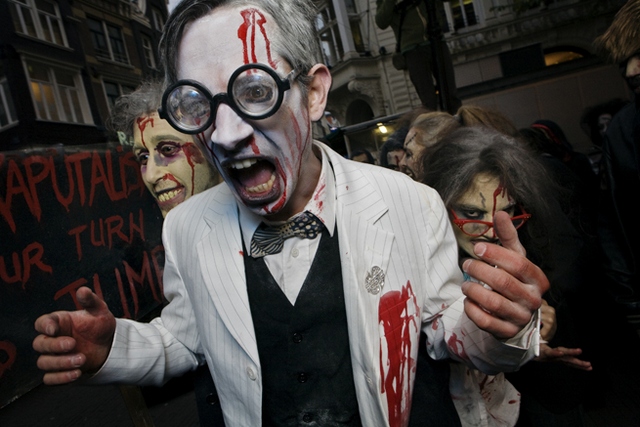 Friday, Oct 31st 2008: the Banking Crisis of 2008 attracted tenths of zombies to Amsterdam. The 'Apokaputalism now! Zombie Walk' went through the shopping area and finished at the Cathedral of Capitalism, the Stock Exchange.