Support
If you want to help the Amsterdam Rebel Clowns with anything, please let us know!
Here are our red nose wishes:
Art
Maybe you're an artist and made something absolutely crazy which could only be used by rebel clowns. We're curious to see your mega big green pear! Or your walking goldfish!
Attributes
Any used clown stuff is warmly welcome: make up, brushes, wigs, bow ties, fake guns, water pistols, etc.
Bands
Sooner or later we'll organise a benefit party. Your performance could help to have a successful night!
Boat
We live in Amsterdam. The city is famous for its canals. Could you imagine a boat loaded with rebel clowns? We could! We love to go on a special mission! We will be in joyful tears if we get one, but borrowing once in a while is also great!
Carrier cycle
If we ever want to build our own pink tank we need a carrier cycle to get moving. If you don't use yours, come along and leave it to us! Help us to make our dreams come true!
Castle
Maybe you've a great place in nature in the Netherlands. Sometimes we'll have a weekend for brainstorms or to play with other rebel clowns. If we promise to don't make a total mess of your place, could we get the keys for a few days?
Costumes
If you don't use your clown or theatre clothes anymore we could give them a second life. At the moment we only have a few police trousers, should be nice to have more! We also love pink overalls, elitist clothes, colourful clothes, military clothes, etc.
Filmers
Every intervention needs filmers. Using media is an essential part of our actions! Please let us know if you're able to join us regularly or once in a while.
Hall
Every year we organise a basic training (RABBIT-weekend, Rebel Act Big Basic Intervention Training) and we're also looking forward to sooner or later organise a benefit party. Do you have the place to be in Amsterdam?
Laptop
Could be very useful during our regular meetings and presentations.
Money
"Money, money, money. Must be funny in the rich man's world". We have a lot of expenses because of doing our interventions. Maybe you've too much money? No problem at all! We could use it in a rebellious way! Big donations will be rewarded with a special clown nose!
Megaphone
We already have a small megaphone; maybe it's now time to be loud and clear with a big one!
Photographers
Every intervention needs photographers. Using media is an esssential part of our actions! Please let us know if you're able to join us regularly or once in a while.
Printed matter
Sometimes we need leaflets, posters, etc. Should be very nice if we could get it for not too much or maybe even for free! If you want to get rid of your copier we know the best place! It's a nice building with people with beautiful red noses.
Projector
Needed if we give a presentation anywhere.
Screen
A portable one should be great for a presentation.
Soundsystem
A small soundsystem could be useful during a presentation. A big one could be used during an action!
Space
Rebelact is looking for a safe space in or near the Amsterdam city centre which could be used as a clown stuff storage, but maybe also for preparation meetings.
Train tickets
Train tickets without a fixed date to travel in the Netherlands are very welcome. We could use them on a mission!
Trampoline
We love to jump! There's already a draft for a future action where we could use a big portable trampoline. Yeahhh; let's all jump!
Van
There are moments we really need a van. We will dance for several hours if we get one, but borrowing a van once in a while is also great!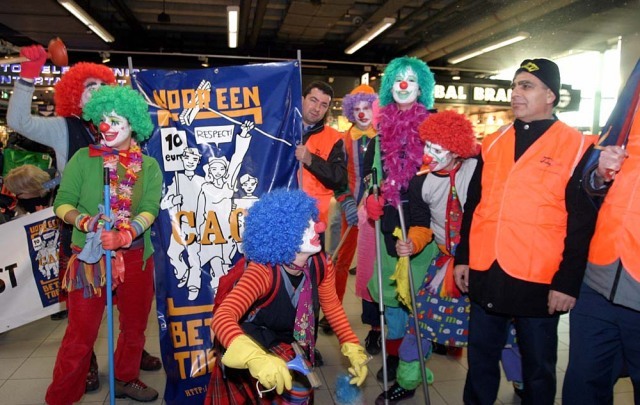 Sunday, December 16th 2007: clown cleaners support actions of the cleaners at Amsterdam Airport Schiphol for respect, decent wages, job security and better working conditions. Photo: Nico Jankowski