Frequently Asked Questions
Could I join Rebelact?
Yes, you could if you live in or near Amsterdam. Please read Join.
Do I need special skills? (theatre school, theatre courses, clown courses, academy of arts, political knowledge, etc)
You don't need, you need, you don't need, you need, you don't need. Let's say it this way: it helps. Being a bit crazy is another excellent starting point.
Could Rebelact give a presentation, workshop or training in my city?
We love to come to your place. Especially if you're able to pay travel expenses and have a place to sleep if needed. Usually we do a presentation with two rebel clowns.
Could I join your basic training as a journalist?
No, you couldn't. The main thing is to develop trust and skills in the group during a basic training. To create the best conditions we don't need extra eyes to observe the group. All eyes should be connected with invisible red noses, not with notebooks!
Could I join one of your interventions as a journalist?
Yes, you could. Email us and tell us about your plan to give attention to the Amsterdam Rebel Clowns.
Could I make an interview about the personal life of one of the rebel clowns in Amsterdam and talk about childhood, relations, school time and other items more or less related to rebel clowning?
Ohhh no!
Could I receive pictures in high resolution?
It depends. Explain why you need the pictures. For which medium? Ask the photographer (for email addresses take a look at the photographer's links) or email Rebelact and make clear which pictures you need.
Could Rebelact help me with answering questions to make a text for school, a thesis, a journalistic text, film, TV or radio programme?
Yes we could. If you can't find what you need on this website, please contact us.
Could the Amsterdam Rebel Clowns join our festival, conference, manifestation or demonstration?
It depends. Email your proposal and you'll hear. We're usually not enthusiastic about just pimping up an event. We love to have a special task, a mission!
Do you belong to a political direction? (squatters, radical left, anarchists, socialists, greens, trade unions, LGBT, indigenous peoples, vegan, animal rights, environmental movement, anti-war movement, etc)
No, please understand we're clowns!
I try to reach British, French, German or other rebel clowns but don't get a reply. Could you help me to get in touch with them?
Perhaps the gaggle (local group of rebel clowns) doesn't exist anymore, is in a deep coma or is a bit sleepy. We've some contacts: we could try to help you, but we don't know every rebellious red nose in the world!
Why is your website in English?
We want to communicate with other parts of the planet and are not clever enough to all learn Chinese or Spanish!
We live in Amsterdam and are from different backgrounds. English is our shared language. Or to say it more precisely: we all use bad English - that's our favorite language!
Could I email you in another language?
If you wish to get attention by the whole group your email should be written in English. If you write in one of the other major European languages there's usually a rebel clown who understands you and could answer your questions in your own language if needed.
Why do you use different outfits?
Rebel Clown Army clothes are great if we meet our colleagues from Police and Army. For all other occasions it depends of the situation. We love to change and to put things upside down: at least we shouldn't be boring for ourselves!
Why are you rebel clowning?
Sometimes society could be pretty predictable. And also protests are often predictable. That's why our intention is to free situations from being too predictable. That way we try to contribute to public debate.
In a mixed landscape of activism, art, humour and media are developing new action forms, the ultimate clownspirational challenge for Rebelact.
What's your goal?
Contributing to another political cultural climate.
Joining the movement for global justice.
Another world is possible!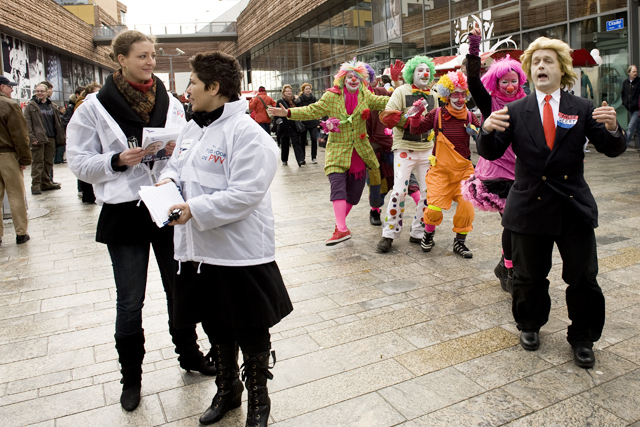 Saturday, February 27th 2010, the last Saturday before local elections: populist politician Wild Geert ('Geert Wilders') and his Partij Voor de Vrijhaat (Party For Free Hate) promotion team campaigning in Almere. Photo: Alexandra Reuter