A tour along contemporary action forms and Rebelact
Usually once a year the Amsterdam Rebel Clowns organise an info night in Amsterdam. Then we explain about past and present of Rebelact's way of rebel clowning. But sometimes we also focus on a diversity of new action forms.
We held the presentation in several cities in the Netherlands and Germany. If you wish, we could also come to your place! Then please mail Rebelact. Our preference is to do a presentation by two rebel clowns. If we've to bridge a large distance we ask you to pay travel expenses and also need a place to sleep.
According to your wishes we could more or less focus on a diversity of new action forms or the way Rebelact operates.
Contemporary action forms
The alterglobalist movement provided a context for the innovation of direct action forms, such as Tute Bianche (the White Overalls), Pink & Silver, and C.I.R.C.A. (Clandestine Insurgent rebel Clown army). Meanwhile, different forms of subversive communication resulted in great interventions: The Yes Men, Reverend Billy and the Church of Stop Shopping, Biotic Bakers Brigades, Yomango, etc. Also in the Netherlands new initiatives emerged: SEALS stormed an arms fair in the Hague, the Rita Promotion Team 'supported' populist politician Rita Verdonk in her election campaign, the Clown Army (CLoLoNeL) and the samba band (Rhythms of Resistance) have frequently atracted attention. In September 2007 a new clown group was founded: Rebelact, the Amsterdam Rebel Clowns.
During the presentation we are going to take a look at how these action forms function. Accompanied by unique pictures and film material, we want to discuss the ways in which they actually do (and don't) work. After the retrospection of new action forms in Prague, Genoa, Gleneagles, and Heiligendamm, there will be room to exchange ideas about future street intervention!
Rebelact
The Amsterdam Rebel Clowns did tenths of interventions. Are they similar or different to the actions of the Clandestine Insurgent Rebel Clown Army? Rebelact almost immediately started to develop an own way of rebel clowning. What's the own approach and how did it develop in the years? Under which circumstances these experiments worked and were successfooool? When and why did they sometimes fail? What could we learn from these experiences and how could we develop and improve creative actions? The presentation about Rebelact's interventions will be illustrated by several hilarious films and pictures.
The information could be very practical as well. Especially if you wish to start your own local group of rebel clowns. How to start and organise a clown gaggle? How does a basic rebel clown training looks like? In Amsterdam we call it the RABBIT-weekend (Rebel Act Big Basic Intervention Training). A training you need to become a rebel clown. How to organise the training will also get attention. If the group starts: how to prioritise and make necessary choices in doing creative actions? Do's and don'ts: how to avoid a lot of possible mistakes Rebelact and other clown groups made in the beginning?
The presentation about Rebelact could vary from quite passive (just enjoying films and telling rebellious clown adventures) till active: how to start your own initiative. Maybe Rebelact could help you with the first steps. It should be great if your rebel clown dreams come true! We love to share the same rebellious clown inspiration with you! Let's all start with the total subversion of the world: less of the same, more revolutions, less slogans, more fun, screw up & clownonise capitalism!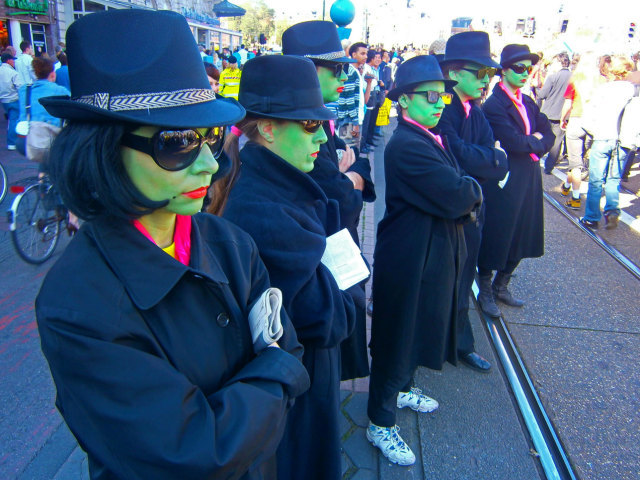 Clearly recognisable undercover police on Sunday, July 3rd 2011 at the 'Squatting Continues' demonstration in Amsterdam. Photo: Karen Eliot